Professional swimming goggles: arena's new Cobra Swipe range of swimming goggles
New anti-fog technology activated with a simple swipe of the fingertips is the distinctive feature of arena's new range of Cobra Swipe professional swimming goggles.
arena's new Cobra Swipe goggles are equipped with revolutionary Swipe Anti-Fog protection technology that lasts 10 times longer and can be activated by simply swiping your fingertips over the lenses.
Let's now describe the main features of these new professional swimming goggles.
Lenses and Seals
The lenses of arena Cobra Swipe goggles are made of polycarbonate, the hardest wearing and longest lasting material guaranteeing superior optical clarity and wide field of vision. Their low profile and blade shape minimize drag reduction.
The seals made of high-quality Japanese TPE focus on maximum comfort even at high speeds.
Nose bridge
The nose bridge of the professional swimming goggles:
is positioned higher up the frame to allow more room for your nose;
is interchangeable and available in different options with 5 customisable fits to make them as comfortable as possible for the wearer.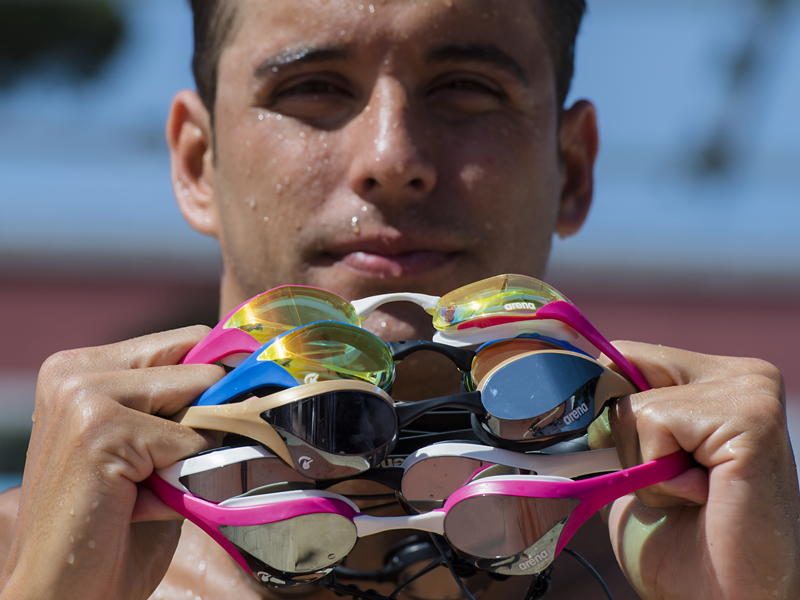 Strap
A combination of simplicity and flexibility so they fit tightly but comfortably. The double silicone strap and the RFA back clip maximise comfort and allow optimum adjustability by applying tension to different parts of the head.
Fit
arena Cobra Swipe professional swimming goggles are designed to offer an ultra stable fit. The differing densities of the frame and special sealing material guarantee a better than average fit and superior comfort.
arena's new range of Cobra Swipe goggles are available in three different models:
Cobra Ultra Swipe Mirror, arena's most advanced Swipe professional swimming goggles guaranteeing maximum stability and an hydroynamic design. Perfect if you want to swim fast in the water more stylishly!
Cobra Core Swipe have the same features as the Cobra Ultras but provide more space for the eyelashes and more freedom in the temple area, for maximum comfort even during your hardest training sessions. Excellent if you want to see every centimetre of your next win.
Cobra Tri Swipe Mirror, arena's professional swimming goggles for triathletes. They have a 3D seal to fit better and more comfortably, so water will never be a problem again.
Finally, here are a few tips that will have you saying: "These are the goggles I've always wanted!"
arena's Cobra Swipe goggles are available with different types of lenses. Choose the ones you prefer. If you like to swim in the pool, I advise the clear lenses that are excellent for swimming indoors or in bad light. If, on the other hand, you like open-water swimming or swimming in outdoor pools in the summer, then the dark lenses are for you!
arena's range of Cobra Swipe professional swimming goggles solve the problem of getting water in your goggles: the interchangeable nose clip will provide you with the perfect fit. The right size for you is the one that fits comfortably but snugly to your nose.