"The reason I undertook The Grand Swim was to raise money and awareness about the ever present issue the oceans face." (Oly Rush)
Miles: 60 miles 95.5km   |  Air Temperature: 81℉
Hours: 36.59   |   Sea Temp: 82℉
Wind conditions: 11 Knots SE   |  Stroke Rate: 44
Swell: <2 feet SE   |  Visibility: Good/Excellent
When I completed my Isle of Wight swim (#swimiowplasticfight) I was elated but somehow I felt I wanted to push myself further! I had been training for a 20+ hour swim and we managed to get round in 15 hours due to some incredible tidal planning. It was a challenge but it didn't challenge me to my limits. I felt like a fraud calling myself an endurance swimmer, until The Grand Swim. This swim pushed me to my absolute edge. I have never felt so small in the ocean.
At times I was ready, almost wanted for something to swoop out of the deep and take me into the abyss. This swim tested me in so many ways, my physical and mental strength was tested to the max. I went into this particular swim prepared to die and I didn't.
Sounds extreme right?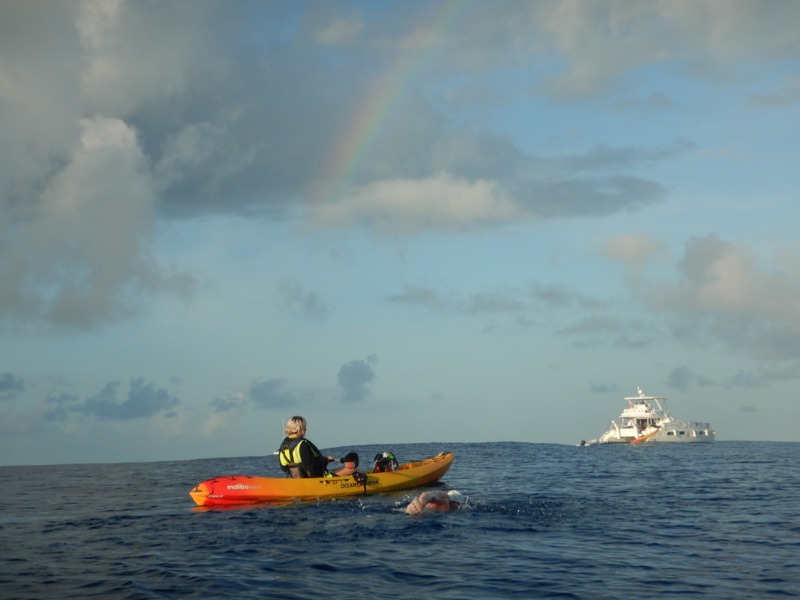 The mission…
These kinds of swims are only possible when the mission purpose is strong. What I fought for on May 16th 2022 was the state of the oceans. It's talked about much more than it used to be but words mean nothing when governments are doing little to restrict the use of single use plastics.
Our oceans are a hugely important habitat, not just for the life forms that live there but it has a massive effect on global systems as a whole. What humans are doing to this perfect ecosystem is beyond unforgivable. We as consumers need to be the ones to demand change. Single use plastic is used because it is cheap, what is cheaper is purchasing one container, taking care of it and using it over and over again. The environmental cost is unfathomable.
The reason I undertook The Grand Swim was to raise money and awareness about the ever present issue the oceans face. By creating a buzz and inspiring the youth, it really brings the issue to the forefront of people's minds. This swim had a political impact, the team and I were invited to speak with the Premier Wayne Panton in Cayman. He vowed to put a plastic ban in place this year. We are looking forward to seeing the initiative roll out!
By creating a buzz and awareness I hope to be able to encourage fellow humans to make more informed and conscious decisions. It is very easy in life to go about your daily routine in a zombified state choosing products just because that's the one you always get. Be mindful, take a moment and choose based on more than just habits. I aim to inspire people to make conscious choices.
Swim preparation…
Lots of swimming, like lots, but still not quite enough…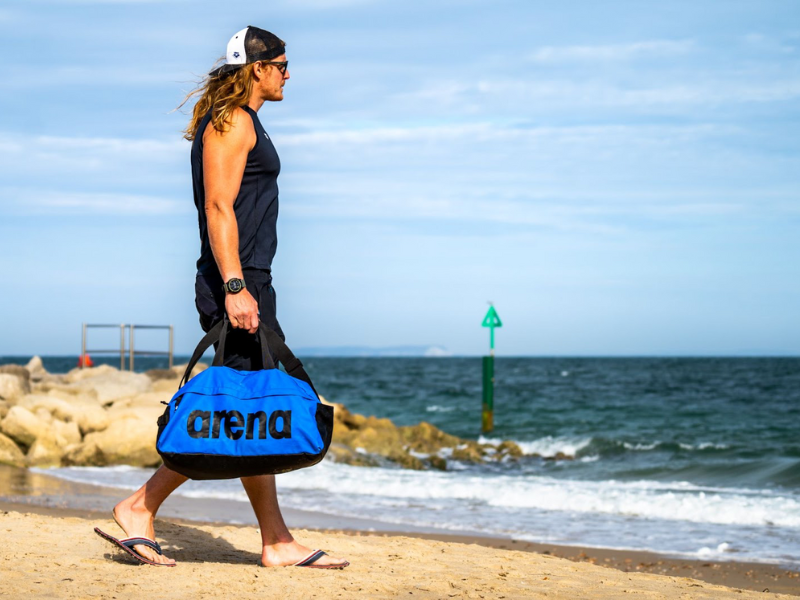 But really, lots and lots of swimming for hours and hours. My training schedule included up to about 80km per week of pool swimming in the winter and 10 hr+ sea swims in the summer. Training in the pool isn't ideal as it's just not the same, issues with chlorine and the need to turn every 25m isn't ideal… we do what we can with what we have. I knew deep down that I was physically under cooked for the swim I was about to undertake. A shoulder injury meant that I had to taper my swims weeks before I was due to, and did not swim a single metre in the two weeks prior to the swim.
I did a lot of other important training during the build up to the swim and I've been right back on it since I've been back in the UK.
I stretch regularly and have been practising mobility and flexibility work. Weight training is also a significant part of my schedule. I do as much cardio as I can on top of my swim training to keep my heart in good shape, such as running and cycling. I'm always careful about doing too much running as I want to take good care of my knees. I am lucky enough to have a friend who is a personal trainer who helped me out with a training plan before I flew out to Cayman.
One thing that I think has really helped me with my training and recovery is my plant based diet. There are many benefits to eating a plant based diet, not just for me but also the planet. From my own experience I suffered for many years with conditions such as restless leg syndrome and IBS. Since I have been on a plant based diet I have seen many previous conditions completely disappear. You can read more about being a plant based athlete here.
Along with the physical prep it was essential for me to prepare my mind for the task at hand.
I have a very active mind that is always speeding at a fast pace. At times I need to calm my inner voice and I use mindfulness techniques such as meditation. Much of The Grand Swim was spent in a state of meditation.
On the day of the swim I had to prepare by getting fully lathered up in a thick layer of sunscreen. This was my one and only shot at layering on the protection and it had to go on thick, but would it be enough for the Caribbean sun?!