Find out how to make remote group training more fun
In a sport where water is a non-negotiable, one can imagine how difficult pool closures have been to the swim community amidst the ongoing pandemic. The transition to remote land training has left a lot of athletes in need of a way to build and maintain meaningful relationships with their teammates and their sport.
To help inject some energy and passion into remote workouts, try introducing some of the following activities into your group calls!
1. Swim Trivia
*Cue the Jeopardy gameshow music*
Surprise your team by ending practice early for a fun gameshow-style segment. Athletes can be divided up randomly into teams of about 4, and the Zoom 'Breakout Rooms' feature can be utilized to allow groups to discuss answers amongst themselves.
Questions can be tailored to your specific team to help swimmers reminisce about funny memories or previous successes:
'Who holds the club record for the 200 metre backstroke?'
'What was our team's highest scoring competition of 2019?'
Alternatively, a more classic version of 'Trivia' can be created with questions pertaining to the sport in general, to see who the hardcore swim know-it-alls are:
'How many litres of water are needed to fill an Olympic sized pool?' (Answer: 2.5 million!).
'Prior to Michael Phelps, which swimmer held the record for the most Olympic gold medals won in a single Olympic Games?' (Answer: Mark Spitz).
2. Picture Sharing
Another way to promote feelings of 'togetherness' amongst teammates is to share pictures at the start of each Zoom workout. Ensure that only a few athletes contribute each time in order to keep the activity short, and create a rotation so that everyone is included.
These can be uplifting, silly, or artsy depending on what each swimmer chooses to express. Some photo-op ideas to help get your creativity flowing:
Your at-home workout set-up.
The delicious meal you had last night post-workout.
Your pet decked out in your favourite pair of goggles.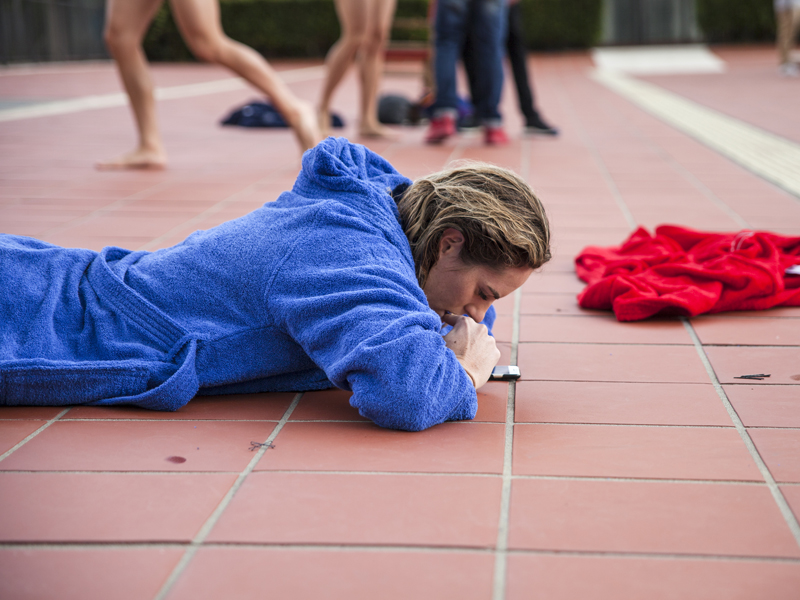 Credit: AnnaMorosini/pomodoroproduzioni.it In this image: Emily Seebohm (AUS)
3. Virtual Book Club
Lockdown is a great time to focus on extending our training to include our mental game. Luckily there are countless sport psychology books on the shelves that are designed to strengthen the mind as you would any other muscle. To name a few of my personal favourites:
"Mind Gym – An Athlete's Guide to Inner Excellence" (Gary Mack). This book taught me ways to embrace imperfection and learn from the bad races.
"Peak – Secrets from the New Science of Expertise" (Anders Ericsson & Robert Pool). This one challenges the myth that talent trumps hard work, and helped me adapt my work ethic to become more purposeful.
"Grit – The Power of Passion and Perseverance" (Angela Duckworth). This book explains several key metrics for success, and provides helpful goal-setting advice.
Alternatively, athlete auto-biographies can act as motivational tools, and can help your team to engage critically with the sport and their heroes. Some ideas for different age groups:
For youth teams: Adam Peaty's "Sporting Heroes" collection, designed to read like a comic strip.
For teens: Michael Phelps's "No Limits – The Will to Succeed" which describes his preparations for the 2008 Olympic Games.
For mature swimmers: Dara Torres & Elizabeth Weil's "Age is Just a Number – Achieve Your Dreams at Any Stage in Your Life", which recounts Torres' Olympic come-back story.
Remember that it might not matter so much what you read. The important part is that you're using the virtual book club as a space to create a shared experience.
4. Q & A
A fun ice-breaker style activity is a simple Q&A session, where swimmers can take turns answering a different engaging question each practice. Some examples of ones that you can use are:
How did you begin competitive swimming?
What race are you most proud of, and why?
Asking athletes to think back to positive experiences can act as a great way to feel more connected to the sport. Better yet, you can try to tailor questions to help your team practice mindful gratitude and self care:
What activity did you discover in lockdown that you ended up loving?
How have you been taking care of your body and mind lately?
So, which activities do you plan to adopt for your next remote training session? Are there ones we missed that your team already does? Let us know! In the meantime stay safe, and remember – the pool will be welcoming you back before you know it.
---
While you wait to get back in the pool…
Articles you may also like…
4 group drills to be tried out with your teammates
You wouldn't understand unless you're a swimmer – Teammates!
Join arena SWIM!
DISCOVER MORE at www.arenaswim.com