arena is pleased to announce a new partnership with Florent Manaudou through the 2020 Olympics in Tokyo. The 29-yearold Frenchman won 50m freestyle gold at the 2012 Olympics in London, and from 2013-2016 amassed four world and six European titles swimming freestyle and butterfly.
"It's a new adventure and it's great for me," said Manaudou. "I'm really happy to be back racing this year, and I feel stronger with the support of arena. I wore arena Jammers at Sette Colli (in June 2019) and I was happy with my time. For me, the Carbon Technology is without doubt the best on the market and I love the Carbon Flex VX, but I am sure that the best is yet to come. I feel very confident that arena and their swimwear & equipment will give me unprecedented support and belief for my Olympic challenge."
Until he was a teenager, Manaudou spent as much time on the handball court as he did in the pool, but when he decided to focus exclusively on swimming at the age of 13, his older brother Nicolas guided him to his first significant title in 2007, the French Junior 50m freestyle title. But it would take another four years to start appearing regularly on the international stage, starting out with his first World Championships in Shanghai 2011, where he finished fifth in the 50m butterfly. Later that year he made a big decision to move south, joining sister Laure at the Cercle des nageurs de Marseille under coach Romain Barnier.
2012 proved to be Manaudou's breakout year as he won the Olympic 50m freestyle title in London as an outsider swimming in lane 7. He was the first Frenchman to win an Olympic title in the event, which he did in the fastest time in history in a textile suit (21.34). It was also the first time siblings had won swimming gold medals at the Olympics, his sister Laure having won the 400m freestyle gold medal at the 2004 Games in Athens.
The following year at the World Championships in Barcelona, Manaudou made the finals in both the 50m freestyle and butterfly without finishing on the podium, but with the French relay team he took home the 4x100m freestyle relay gold. His rise continued in 2014 as he first won four gold medals at Berlin's European Championships (50m & 100m freestyle, 50m butterfly, 4x100m freestyle), and then six medals at Doha's World Short Course Championships, including three golds and two world records (50m freestyle, 50m backstroke), both of which still stand today.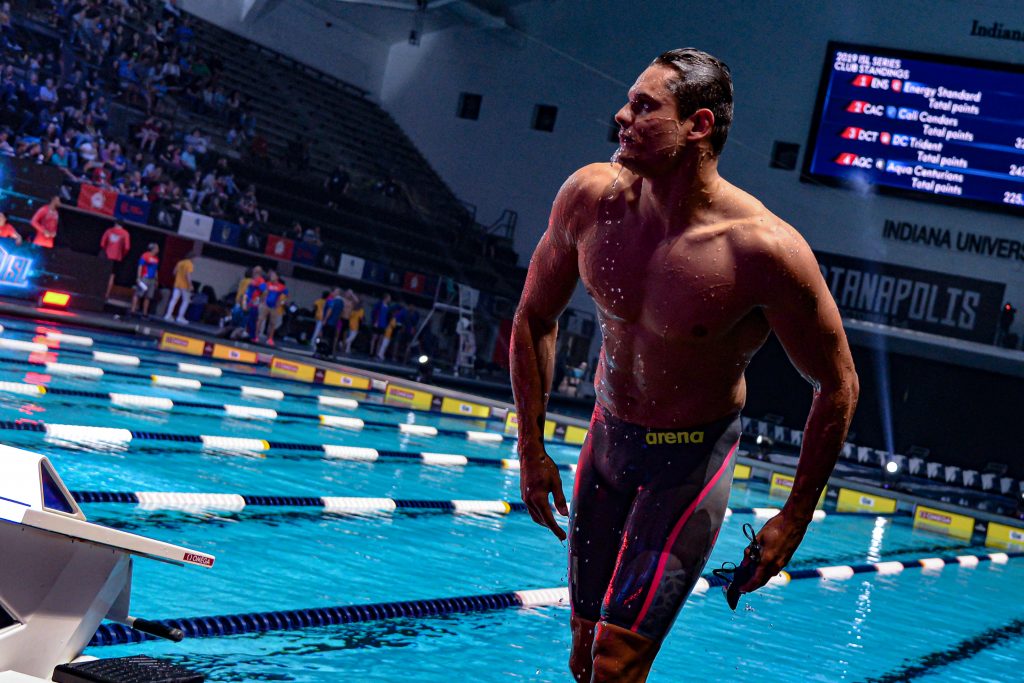 2015 brought him more success, including the the 50m freestyle, 50m butterfly, and 4x100m freestyle world titles in Kazan, lowering his own unofficial textile world record in the 50m freestyle with a time of 21.19. After three gold medals at the 2016 European Championships in London, Manaudou was out-touched at the Rio Olympics for the 50m freestyle gold medal by one-hundredth of a second, and added a second silver medal with the French 4x100m freestyle relay team.
In September of 2016, Manaudou decided to put his swimming career on hold to pursue his passion for handball, which he played for the Aix-en-Provence club before announcing his return to swimming in March 2019. In his first meet in nearly 3 years – Rome's Sette Colli in June – he swam a speedy 21.72 in the 50m freestyle, coming second behind World Championship silver medallist and fellow arena Elite Team member, Bruno Fratus of Brazil. Next on his calendar is the International Swimming League (ISL) event in London (November 23-24) as part of the Energy Standard Team and Las Vegas (December 20-21) to follow if they qualify for the finals. December also sees him in Glasgow for the European Short Course Championships (December 4-8) and in Angers for the French Short Course Nationals (December 12-15).
"Florent has already proven himself to be one of the great French sprinters in a country that specializes in these disciplines," said Giuseppe Musciacchio, arena co-CEO, "and we believe he still has more to show the swimming world. We love the idea of being at his side in this exciting comeback story. With Florent back in the pool, sprint events in Tokyo will surely make bigger waves."