Most people might think of goggles, caps, and swimsuits as the only swimwear you need, but for open-water swimmers, a wetsuit is vital to performance and comfort when competing or training. Open-water swimming wetsuits are designed to meet the needs of open-water swimmers, all while boosting swimming performance.
We'll cover what you need to know about wetsuits for swimming. We'll explore key design features and how they can improve your swimming performance. Then, we'll look into competitive regulations surrounding wetsuits. After that, we will view arena's line of wetsuits so you can choose the best one for your needs and ability level. Finally, we want your wetsuit to last, so we provide some useful information on cleaning and storing your new suit.
How Are Wetsuits Designed for Open-Water Swimming?
Wetsuits for swimming are completely different from scuba diving and surfing wetsuits, so you should start by selecting the right kind of wetsuit for your hobby. Swimming wetsuits are loaded with features designed to boost your performance.
Some of the features you'll receive from wearing a wetsuit for swimming include improved buoyancy and body position, warmth while retaining range of motion, coated neoprene for enhanced glide, and back zip for easy entry, exit, and transitions. Let's look into each design feature and the associated benefits.
Buoyancy and Body Position
A wetsuit for swimming is specifically designed to be used at the water's surface and provides optimal buoyancy and body positioning. Thick neoprene buoyancy panels in the wetsuit's middle section and lower body elevate your position in the water, reducing resistance so you can swim with more speed using less energy. Specialized neoprene construction supports your core, allowing you to maintain excellent posture throughout your swim.
Warmth and Mobility
Swimming in colder water means you need to keep your body warm without sacrificing mobility and comfort. Thicker neoprene in the wetsuit's midsection traps body heat even when the water temperature is low. Thin and stretchy neoprene is used where greater freedom of movement is required. Plus, wetsuits for swimming have softer seals to prevent chafing.
Enhanced Glide
A specialized coating on the outside of a swimming wetsuit reduces drag. Drag reduction is a key component to swimming efficiently in open-water events. Wetsuits, like the arena Powerskin Storm, that are equipped with this specialized coating are designed to repel water and minimize water absorption so you can maximize your glide through the water.
Back Zip Closure
Wetsuits usually have a back zip for a few reasons. If you are a triathlete, the back zip makes it much easier and quicker to remove your wetsuit in the transition. Quickly removing your wetsuit is essential for racing, but it is also convenient for everyday training. 
Because there is no zipper around the neck, the wetsuit is more tightly sealed at the edges to prevent water from seeping in when you look up to check your position while swimming. Plus, the reverse zipper means that nobody can accidentally pull on the zipper and open your wetsuit during the hustle and bustle of racing.
FINA Wetsuit Regulations for Competitive Swimming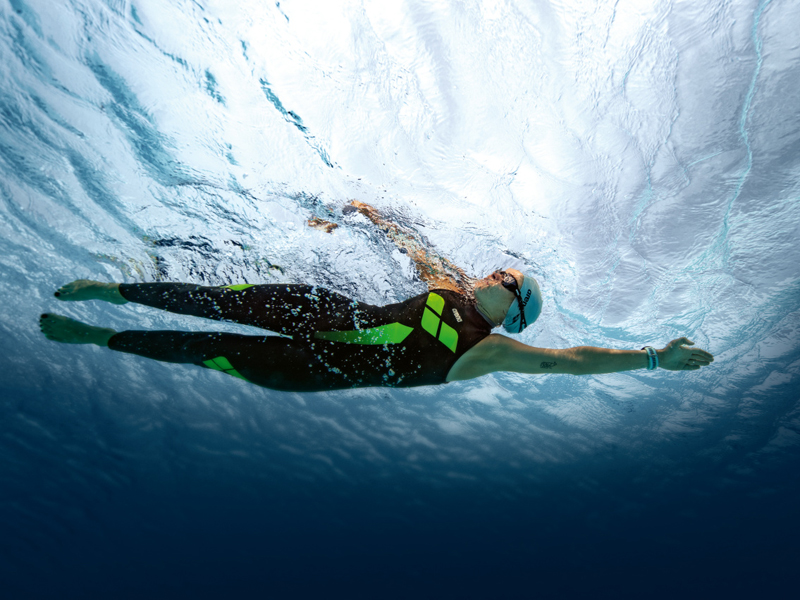 You can use any swimming wetsuit you like for training sessions, but if you participate in races, there are very specific rules to be followed. Whether or not you can wear a wetsuit for FINA races depends on the water temperature:
Wetsuits are mandatory if the water temperature is below 18 degrees Celsius (C).

If the temperature falls between 18 and 19.9 degrees C, wearing a wetsuit is optional.

For temperatures of 20 degrees C or above, on the other hand, you cannot wear a wetsuit and must use an ordinary

open-water swimsuit

. 
There are also specific FINA regulations about the size and position of logos when racing. So, if you take part in the competition, you must wear a FINA-approved wetsuit. 
arena's FINA-approved wetsuit is the Powerskin Storm Wetsuit (with one logo at the front) for both men and women. In addition to FINA approval, the Powerskin Storm Wetsuit is accepted by World Triathlon and USA Triathlon (USAT), and is Ironman-approved.
Arena's Range of Open-Water Wetsuits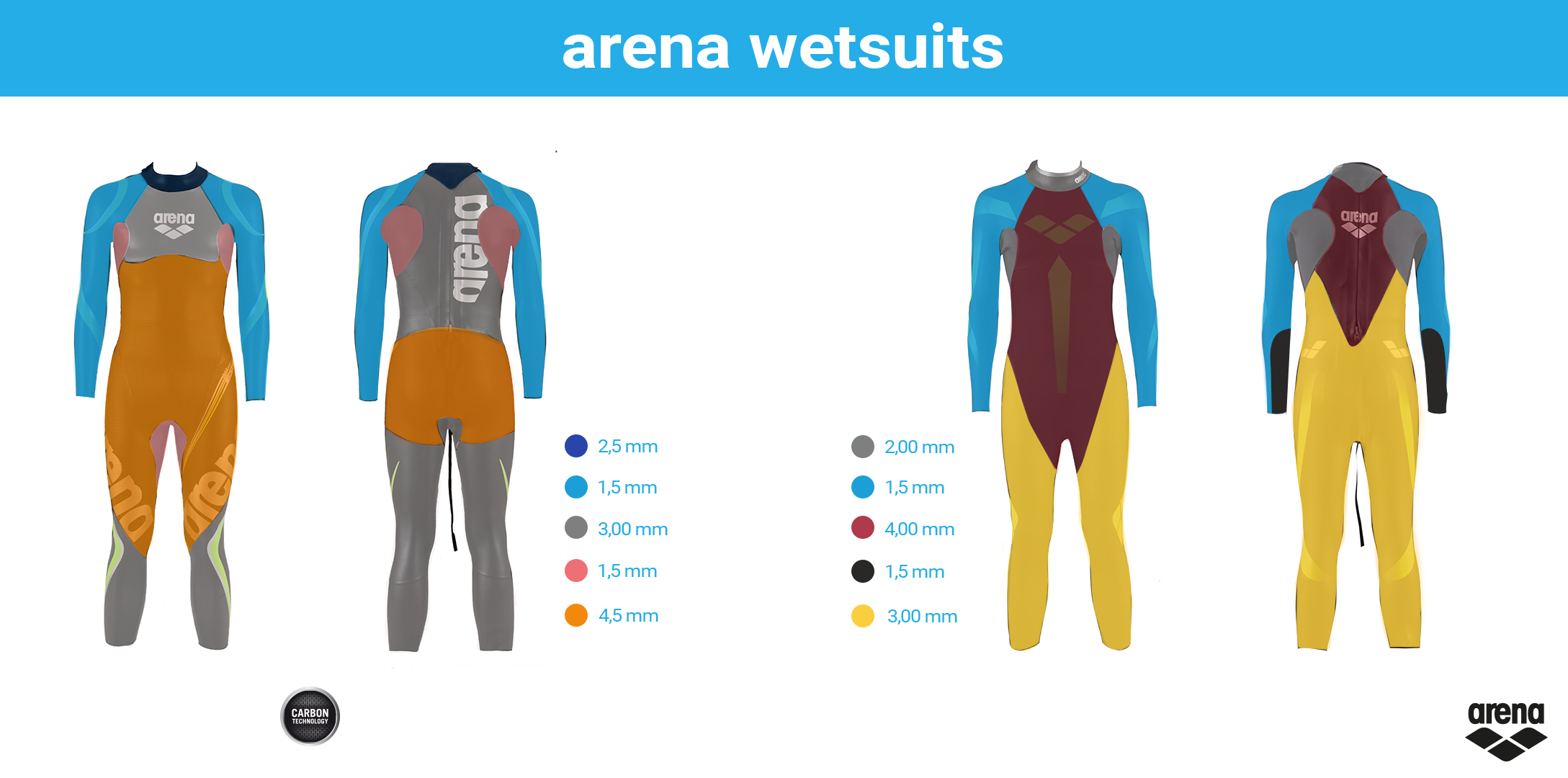 From beginners to advanced swimmers, arena has a wetsuit that is packed full of features and ready to boost your swimming performance. arena's range of wetsuits includes: 
The Triwetsuit is an entry-level design with no inside carbon layer and makes a great option for new swimmers getting into the sport. Available in both a men's and women's wetsuit, this suit also comes in a sleeveless variety for warmer water temperatures and an even greater range of motion.
The Carbon Wetsuit has an internal layer of carbon fiber around the midriff and on top of the legs to provide compression and stability. This is a great suit for anyone looking to step up their level of performance. It is also available in a sleeveless option for men and women.
If you are planning to swim in particularly dangerous waters, try the arena SAMS Carbon wetsuit. This is a version of our Carbon Wetsuit incorporating SAMS (Shark Attack Mitigation Systems) technology. Patented and developed in Australia, this technology reduces the risk of shark attacks thanks to the wetsuit's color and striped pattern.
Finally, the Storm Wetsuit provides the best option for competitive open-water swimmers. FINA-approved and constructed using high-quality Yamamoto neoprene, this is an excellent race-ready open-water or triathlon wetsuit for your next event. 
How to Choose the Right Wetsuit for You
arena wetsuits are available as full suits with long sleeves and in a sleeveless style. Full sleeves provide greater buoyancy, but if you want your arms to be free and you like to feel the water, you should probably opt for a sleeveless wetsuit.
If you prefer something lighter than a full wetsuit, particularly when the water is not too cold, take a look at our spring suit-styled wetsuit with short sleeves and legs, a perfect alternative for swim-runners.
Remember, wetsuits must fit tightly but not impede natural movements. They should fit like a second skin. Tighter fits ensure no water can seep in around the edges, but too tight of a fit will make it hard to move freely. A loose fit will let too much water in and has the potential to cause bunching and chafing. Consult the arena sizing charts to find the right fit for you.
How to Care For Your Wetsuit
Remember to care for your wetsuit after usage. Rinse it in fresh cold water, and hang it up to dry away from direct sunlight. Once it is dry, turn it inside out and repeat the procedure for the inside.
To look after neoprene properly, it is important to keep your wetsuit away from any direct heat sources (like radiators or hairdryers) and always hang it up in a cool, dry place when it is not being used. Avoid leaving your wetsuit bundled up in a swim bag or in a warm vehicle.
Stay Warm and Perform Better in a Wetsuit for Swimming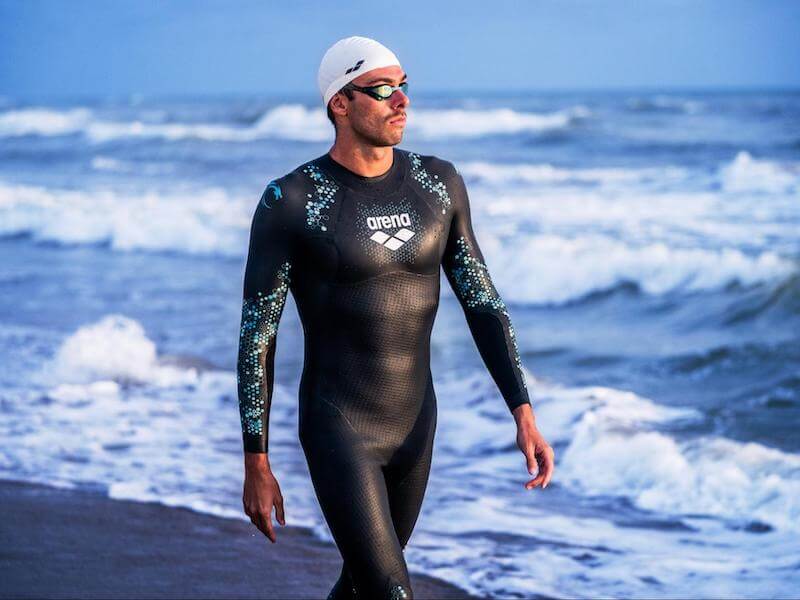 Now that you know the crucial design elements of a wetsuit and how they can benefit you, you're ready to take the next step and secure a quality wetsuit for your swimming needs. Whether you swim open-water for training or you are a high-level athlete, there is a wetsuit for you. Just be sure to care for it, so it lasts you many swim sessions to come!
If you're looking for wetsuits or any other swimming gear, be sure to check out the arena swim store.