How do I choose a wetsuit for open-water swimming?
Wetsuits are designed to provide protection against the cold and greater buoyancy during open-water swimming.
You can use any swimsuit you like for training sessions, but if you take part in races there are very specific rules to be followed. Whether or not you can wear a wetsuit for FINA races depends on the water temperature:
wetsuits are mandatory if the water temperature is below 18°C;
between 18°-19.9°C wearing a wetsuit is optional;
for temperatures of 20°C or above, on the other hand, you cannot wetsuit and must use an ordinary swimsuit.
There are also specific FINA regulations about the size and position of logos when racing. So, if you take part in the competition, you must wear a FINA-approved wetsuit. arena's FINA-approved wetsuit is the all-black Carbon Wetsuit (with one single logo at the front) for both men and women. You cannot wear any other colour in official FINA races.
How it is a wetsuit made?
A wetsuit is made from neoprene panels and inserts of different thicknesses strategically positioned to guarantee optimum buoyancy and maximum freedom/naturalness of movement. Wetsuits are thicker around the midriff to provide better support, but thinner and more stretchy around the shoulders for maximum flexibility.
Wetsuits usually have a reverse zipper, but why?
If you are a triathlete, the special reverse zipper makes it much easier and quicker to remove your wetsuit in the transition area.
Because there is no zipper around the neck, the wetsuit is more tightly sealed around the edges to prevent water from seeping in when you look up to check your position while swimming.
The reverse zipper means that nobody can accidentally pull on the zipper and open your wetsuit during the hustle and bustle of racing.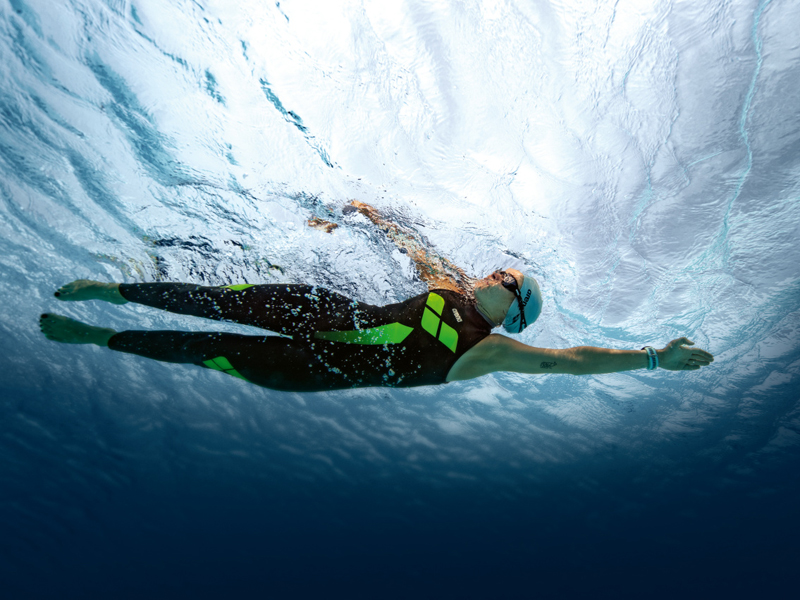 arena range of open-water wetsuits
arena's range of wetsuits includes various designs: Triwetsuit, Carbon and SAMS Carbon.
The Triwetsuit is an entry-level design with no inside carbon layer, while the Carbon Wetsuit has an internal layer of carbon fibre around the midriff and top of the legs to provide compression and stability.
If you are planning to swim in particularly dangerous waters, try the arena SAMS Carbon wetsuit. This is a version of our Carbon wetsuit incorporating SAMS (Shark Attack Mitigation Systems) technology: patented and developed in Australia, this technology reduces the risk of shark attacks thanks to the wetsuit's colour and striped pattern.
ARENA TIPS
Remember to look after your wetsuit after usage. Rinse it in cold water and hang it up to dry well away from direct sunlight. Once it is dry, turn it inside out and repeat the procedure for the inside.
To look after neoprene properly, it is important to keep your wetsuit away from any direct heat sources (like radiators or hairdryers) and always hang it up when it is not being used.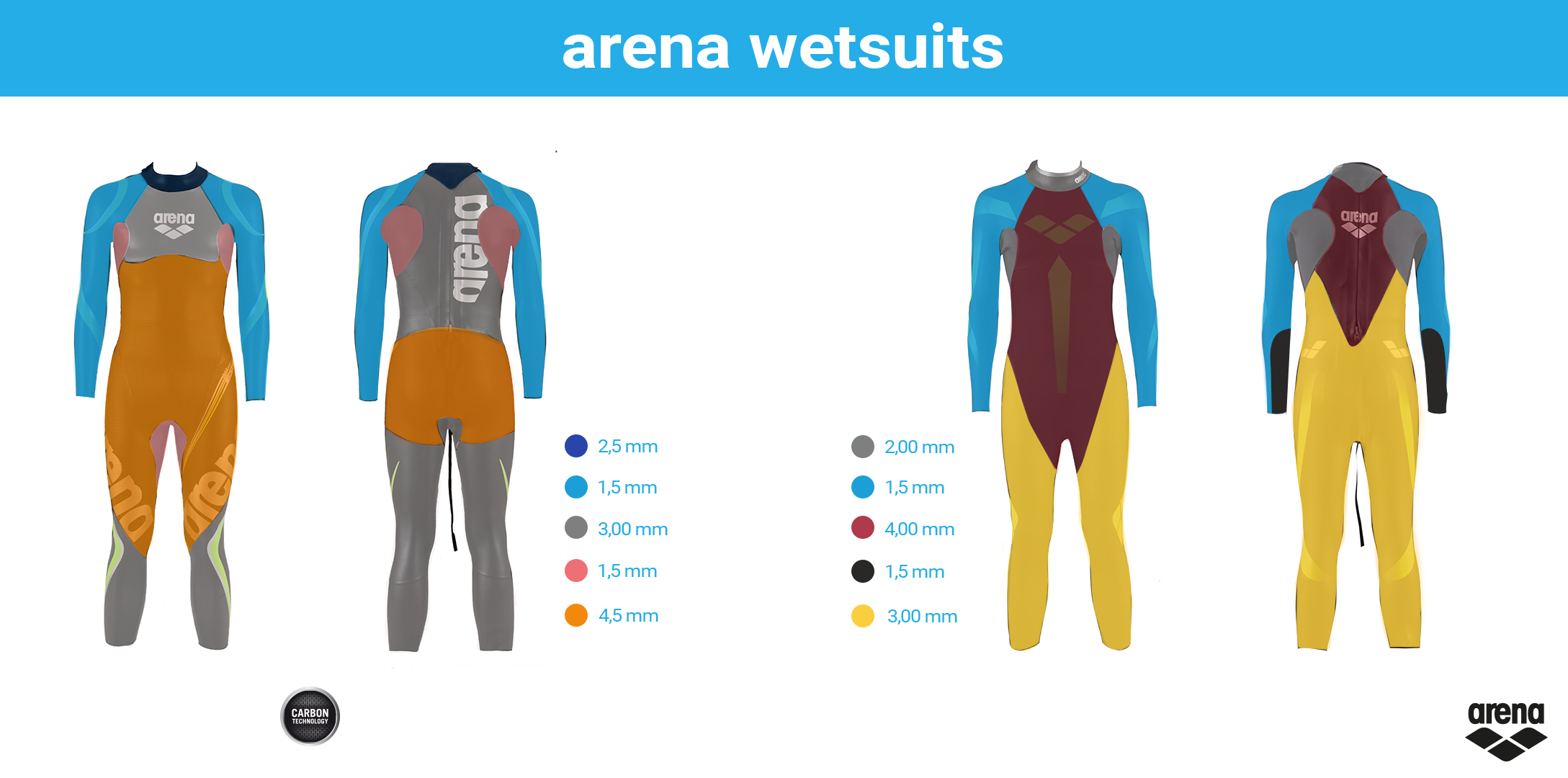 How to choose the right wetsuit for you
arena wetsuits are available with long and short sleeves. Long sleeves provide greater buoyancy, but if you want your arms to be freer and like to feel the water, you should probably opt for a sleeveless wetsuit.
If you prefer something lighter, particularly when the water is not too cold, take a look at our wetsuit with short sleeves and legs , a perfect alternative for swim-runners.
Remember, wetsuits must fit tightly but they must not impede natural movements. Tighter fits ensure no water can seep in around the edges. Consult the sizing charts to find the right fit for you.
ARENA TIPS
Wetsuits for swimming are completely different from wetsuits for divers, so you should also use the right kind of wetsuit for your hobby.
A wetsuit for swimming is actually designed to be used at the surface of the water and to allow maximum freedom of movement and an ideal position in the water. They are thin and stretchy where greater flexibility is required and have softer seals to prevent chaffing.