It goes without saying: when choosing women's swimwear for the beach, looks definitely count. Deciding whether to opt for a bikini or one-piece for your days on the beach is mainly an aesthetic matter. Every style can enhance your curves or, in certain cases, help you hide those you think are your "weak spots".
What counts when choosing a swimsuit?
Let's be honest: as the days get longer and you can even smell summer in the air, choosing a new swimsuit can really put us in a good mood, reminding us that summer is just around the corner.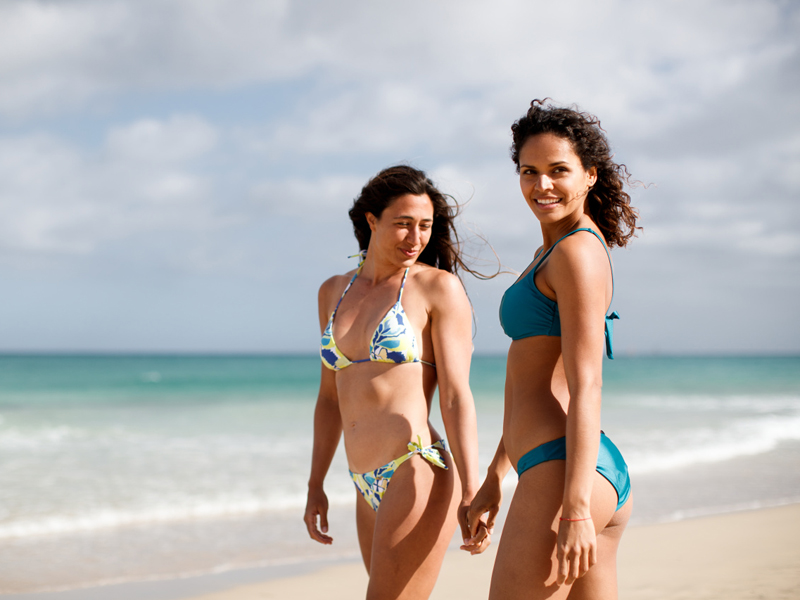 Women's swimwear for the beach comes in four main types: one piece, two-piece, trikini (a revealing one-piece exposing much of the body) and tankini (briefs + top).
And four key factors need to be taken into account when making your choice:
Quality. If you want your new swimsuit to actually be "good" as well as just look good, then paying careful attention to fabrics, colours and other details;
Colour. If you have light-coloured skin, then opt for bright colours that can enhance even the faintest tan. If you are dark skinned though, opt for lighter colours creating a lovely contrast with your skin tone;
Use:  This may not be the most important factor, but if you plan to swim a lot then you will need a comfortable swimsuit, and if you love sunbathing then you need something rather skimpy. And what about if you are only interested in the fashion side? That is easy: choose something stunning!
Body shape (or, in other words, tell me what body shape you are and I will tell you which swimsuit to pick). What really counts when choosing women's swimwear for the beach is your body shape. High-cut or high-waisted briefs, boy-shorts or bottoms with ties, a triangular or padded bra: the ideal style for you is somewhere out there. You just need to know how to choose it.
What body shape are you?
Inverted triangle
Your body shape: You have slim legs and your shoulders are wider than your hips.
What to choose: the ideal swimsuit for you is a high-cut two-piece with a high waist. It will make your legs look longer and your hips wider.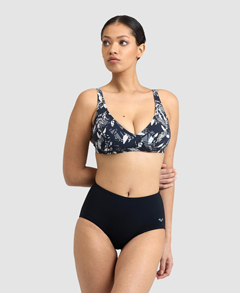 Women's Bodylift Francy Two-Piece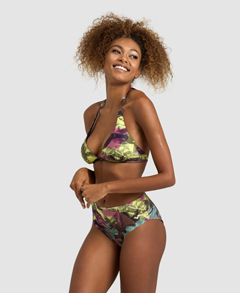 Women's Allover Print Halterneck Bikini 
Pear
Your body shape: unlike the inverted triangle, your hips are wider than your shoulders.
What to choose: a two-piece with a padded or push-up bra to make your bust look bigger. Low-waisted briefs will make your torso look longer.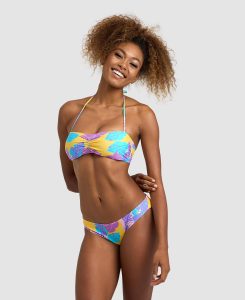 Women's multiprints bandeau bikini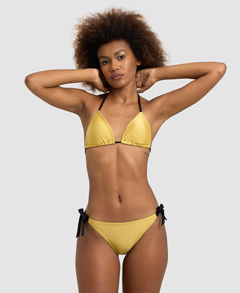 Women's arena 50th Shiny Gold Triangle Bikini
Apple
Your body shape: you have shapely feminine forms and a narrow waist.
What to choose: a one-piece with a rather low-cut top to focus on your cleavage. A skirted bottoms will definitely suit you. A two-piece will also work but ideally with a high waist.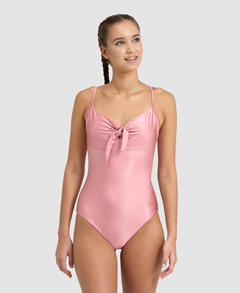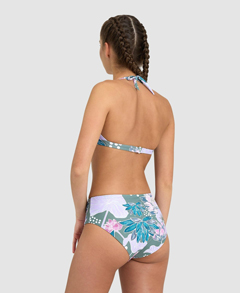 Women's Multiprints Halterneck Bikini
Large hourglass or figure of "8"
Your body shape: You are extremely well proportioned: your shoulders and hips are the same width and you have a narrow waist.
What to choose: all swimsuits really suit you, but a pin-up retro-style bikini is the best for you. But take note: if you have an ample bosom then avoid bandeau tops that tend to have an excessive flattening effect.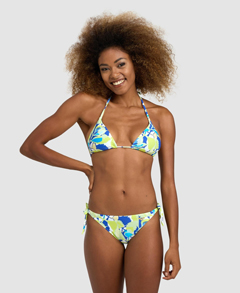 Women's Multiprints Triangle Bikini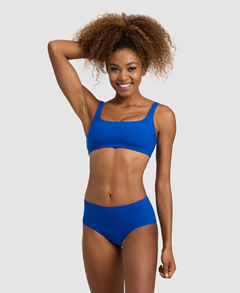 Double triangle or hourglass
Your body shape: you have a similar shape to a large hourglass only more athletic and muscular.
What to choose: all swimsuits really suit you too, but the best choice is a high-cut swimsuit or a swimsuit with low-waisted boy shorts. If you have wide hips avoid attention-drawing  tight-fitting ties.
Women's Arena Icons Two-Piece Swimsuit Solid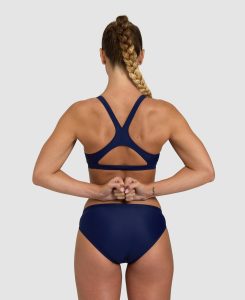 Women's Two-Piece Swimsuit Threefold Print
Ruler
Your body shape: you have a long and shapely physique and your shoulders, hips and waste of the same width.
What to choose: triangular bikini with ties is the right choice for you. A halter neck swimsuit will focus on your shoulders and make your curves look even more shapely. Boy-shorts will draw attention to your shapely booty.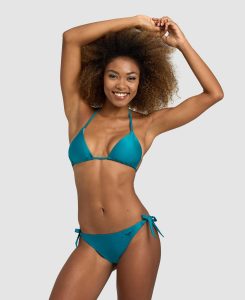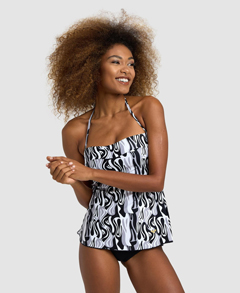 ---
Articles you may also like…
Fitness at the Beach, part 1 – Getting Exercise on a Beach Holiday