Lap swimming makes for a fantastic full-body workout that is low impact and will improve your overall health. The best part about lap swimming is that you don't need too much equipment to get into the sport. A swim cap, goggles, and the best swimsuit for lap swimming will get you started.
A quality training swimsuit will improve your overall swimming experience. With so many options to choose from, you might feel somewhat overwhelmed when researching the best swimsuit for lap swimming. This article aims to help you understand everything you need to know about the types of swimsuits that are used for swim training.
First, we'll cover what qualities to look for. Then, we'll explore what distinguishes a swimsuit for lap swimming from other types of swimsuits on the market. Then, we'll look into the various types of lap swimming suits for both men and women and explore which one will work best for your needs.
What Makes the Best Swimsuit for Lap Swimming?
The best swimsuit for lap swimming should be comfortable and designed to last you through many swim training sessions. When looking for a new swimsuit, make sure it provides a good range of motion, reduces drag, and is durable. Keep your eye out for suits that dry quickly, provide UV protection, and are comfortable to wear. 
Let's go over each of these elements that make for a good training suit.
Good Range of Motion
Maintaining a good range of motion is necessary to get the most out of each swim workout. The best swimsuits for lap swimming are constructed from materials like polyester that allow for maximum range of motion.
Finding a swimsuit that allows for maximum range of motion is particularly important when looking for a one-piece women's swimsuit. Quality fabric that is flexible will allow you to have free mobility through your midsection in a one-piece swimsuit.
For men, if you want to wear a jammer-style swimsuit, a suit that maintains mobility through your legs and hips will ensure your kick is unencumbered. Particularly for breaststroke kicking, you will need maximum mobility from your suit.
Improved Drag Reduction
Drag reduction is another element to look for in a good swimsuit for lap swimming. Bathing suits worn for leisurely swimming create a lot of drag as you move through the water, ultimately making swimming more difficult. Swimsuits designed specifically for lap swimming hug your body and allow you to glide through the swimming pool.
Excellent Durability
Chlorine can be hard on swimsuits, so it is important to keep an eye out for a chlorine-resistant lap swimming suit. After all, you want your swimsuit to last you many sessions in the water.
Quick Drying
​Quick-drying fabric is an excellent feature for your swimsuit to have. Swimsuits can become damaged if left in a bag while still wet. Having a suit that dries fast makes it much easier for you to properly rinse, dry, and store your suit until your next swim workout.
UPF Protection
UPF protection is designed to keep your skin safe from harmful UV rays. Some lap swimming suits are designed with fabrics that block UV rays, preventing damage to your skin. The higher the UV rating number on a swimsuit, the more sun protection your skin will have. A UV rating of 50+ blocks 98% of the sun's rays. All arena swimsuits for men and women are made with UPF 50+ fabrics.
Lasting Comfort
Of course, your swimsuit should have a comfortable fit. Quality fabrics will limit your chances of experiencing chafing throughout swim sessions. The swimsuit fabric should feel soft against your skin and stay soft after with proper care.
What Is the Difference Between Lap Swimsuits and Other Swimsuits?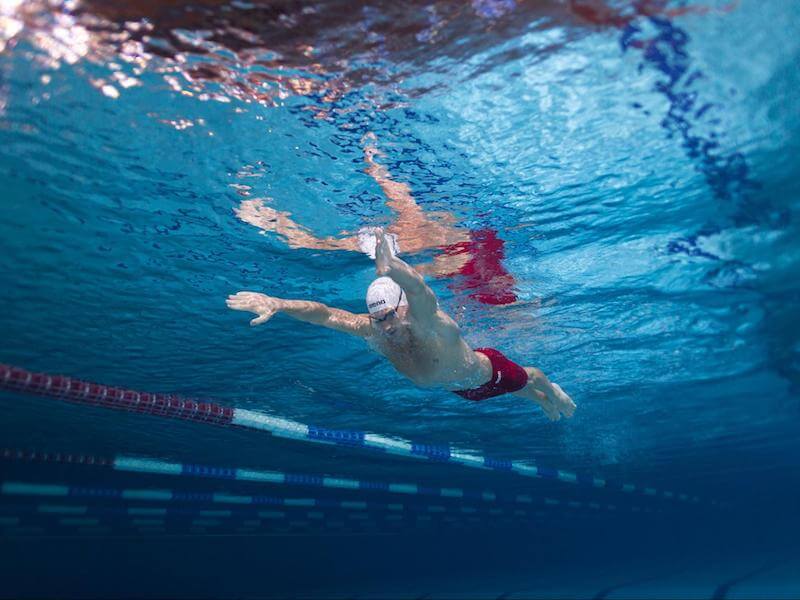 Lap swimsuits are your best option for day-to-day training and can be used for lap swimming, water aerobics, or even water polo. These suits differ from race suits and more specialized suits used for open-water swimming and triathlons. They are also quite different from beachwear swimsuits meant for more casual use. Let's cover the differences in each of these swimsuit types.
Race suits are used by competitive swimmers and are designed to optimize your speed during swim events. These suits are constructed with different fabrics and have higher compression levels than your average training suit. Due to the advanced technology that goes into making quality race suits, they are often much more expensive than a training suit will be.
Specialized open-water swimsuits, like those used by triathletes and open-water swimmers, are quite different in construction from lap swimming suits. These suits often provide full coverage to optimize buoyancy and glide in open-water swimming conditions. Wetsuits are another suit type used by open-water swimmers to stay warm in cold water conditions. These suits are often unnecessary in a pool environment and are best used in oceans or lakes.
Beachwear swimsuits are not designed to hug your body as closely and prove inconvenient during lap swimming. These suits are great for casual settings, but when you want to train hard at the pool, you're better off opting for a training suit that reduces drag and is comfortable to swim in.
What Type of Lap Swimsuit is Best for You?
When choosing a swimsuit, you have a handful of styles to select from. For women, you can choose a one-piece suit or a two-piece suit. For men, you have a choice of a brief swimsuit, a swim short, or a jammer. Let's go over each style to decide which is best for you.
Women's One-Piece Suit vs. Two-Piece Suit
One-piece swimsuits provide the most body coverage. More coverage means more protection from the sun. You might also find that a one-piece suit feels more secure on your body as you swim, but this comes down to your body type and personal preference. You can also choose different back closures on one-piece swimsuits, like a racerback with wider straps or a lace back with thin straps.
Two-piece swimsuits are great athletic swimsuits for training and can also be used as leisure swimwear. These suits consist of a bikini top and a bikini bottom. If you prefer to get more sun while you swim, a two-piece might be for you, as your midsection will be uncovered in a two-piece. You also have the option of interchanging tops and bottoms, choosing between bandeaus, tankinis, adjustable strap tie-backs, or triangle cuts.
Men's Brief Swimsuit vs. Swim Short vs. Jammer Swimsuit
Men's brief swimsuits use much less material. The short cut provides an excellent range of motion and reduces drag. Some swimmers prefer this cut for training, and the decision to wear briefs comes down to personal preference and feel in the water. On another note, these suits tend to be somewhat easier to get on and off than jammers.
If you like the idea of the freedom of movement provided by a swim brief, but want a little more coverage, you should consider the swim short. These swimsuits are very similar in design to the swimming brief mentioned above but have a cut that provides more coverage around the bottom of the suit.
Finally, jammers make an excellent choice for lap swimming. If you prefer more coverage on your legs, a jammer will work perfectly while still maintaining reduced drag during your swim training. The added coverage can protect your skin from the sun.
Choose Your Suit and Enjoy Your Time In It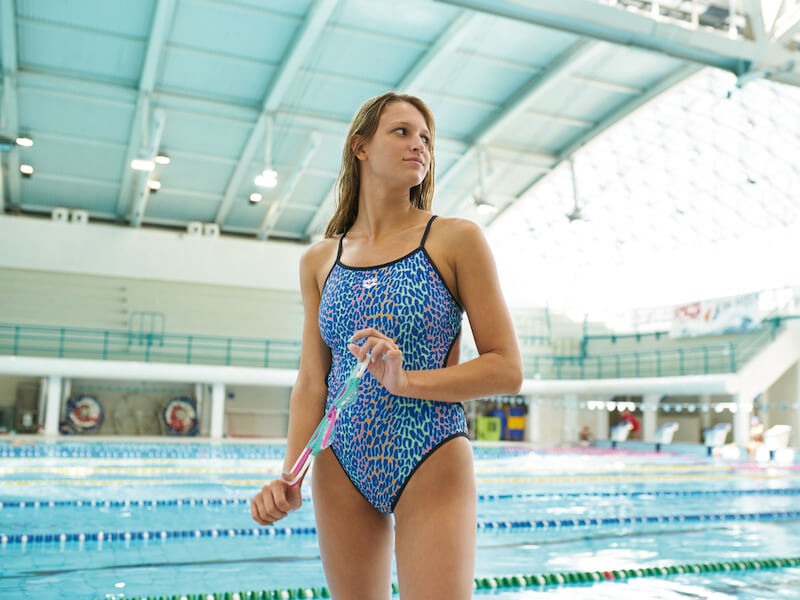 While there are many suits on the market for lap swimming, choosing one doesn't have to be complicated. Just be sure to look for a swimsuit that allows for a good range of motion, reduces drag, and will last you for many lap swimming workouts to come. Additional features like quick drying material and UV protection are a bonus and make your swim experience even better!
Be sure to view arena's full line of swimsuits for lap swimming today: swimsuits for women and swimsuits for men.