It's no secret that open-water swimming has become more popular in recent years. Open-water influencers have shown how liberating and enjoyable swimming outdoors can be. Plus, people have become more privy to the health benefits of cold water thanks to aficionados such as Wim Hof.
However, there's no doubt that this onslaught of fresh-out-the-box open-water swimmers has brought with it a lot of inexperience, which can at times be fraught with danger. Open-water swimming is inherently more dangerous than pool swimming due to a lack of lifeguards, deeper waters and changing weather conditions. This means that you need the right open-water swimming gear not only to help you swim well but to be safe too.
In this article, we'll let you know about the essential open-water swimming gear that will keep you safe in the water and could even help you improve your stroke. 
Swim Goggles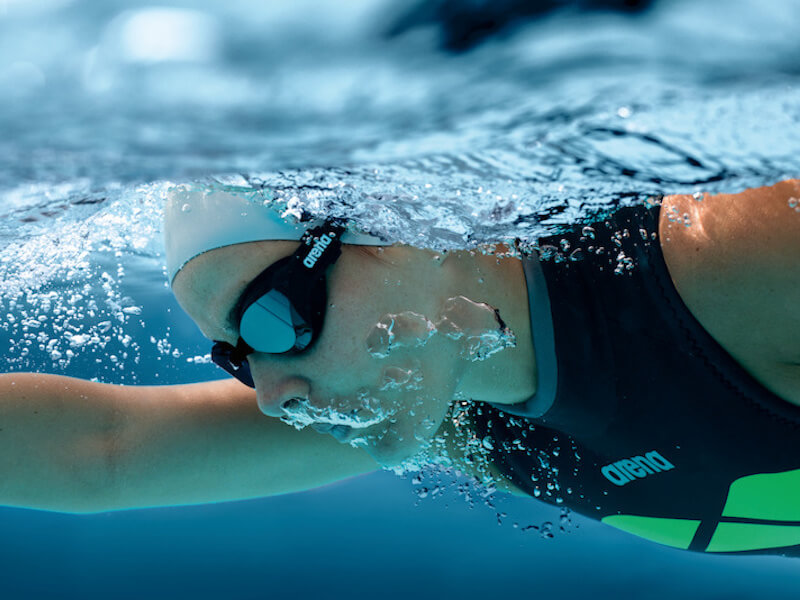 If you're already a regular indoor swimmer, chances are you own a decent pair of swim goggles. However, this doesn't mean they're the right fit for when it comes to open-water swimming.
Despite the lack of chlorine in open water, goggles are still essential for your safety as they can improve your visibility in less predictable conditions. In triathlons, you will be surrounded by swimmers who don't have an obvious straight line to follow. You need to have good peripheral vision and a decent pair of open-water swim goggles will provide this. 
Consider the conditions that you swim in before purchasing this piece of open-water swim gear. If you're lucky enough to swim in a place where the sun regularly shines, consider a pair of goggles that feature UV protection. Many outdoor swimming goggles have mirrored lenses. These are great for sunny conditions. But if you swim in overcast conditions with murky water, these types of swim goggles could actually be a hindrance.
Cobra Swipe Goggles Range
Almost all swim goggles these days feature an anti-fog coating. It's an important feature, as losing visibility in an unpredictable body of water is not recommended. The range of Cobra Swipe goggles take this concept to a whole new level. 
A habit that many swimmers get into with their goggles is swiping them with their finger to temporarily clear the lenses. This can actually damage standard lenses as it removes the anti-fog film from the lens. 
But the range of Cobra Swipe goggles combats this age-old issue and actually turns it on its head. Their anti-fog technology lasts 10 times longer than your average anti-fog lens. Plus, the act of swiping your goggles while submerged actually activates the technology. 
This open-water swimming gear is also perfect for those that want to swim fast in bright conditions, as they feature mirrored lenses with built-in UV protection and are designed with good hydrodynamics in mind.
Triathletes should specifically look at the Cobra Tri Swipe Mirror Goggle, which features all of the above-mentioned features alongside some unique additional technology. These goggles feature 3D gaskets that ensure a comfortable fit and make sure no water flows on the lenses. This will keep you safe and your competitors in sight.
Open-Water Swimming Wetsuits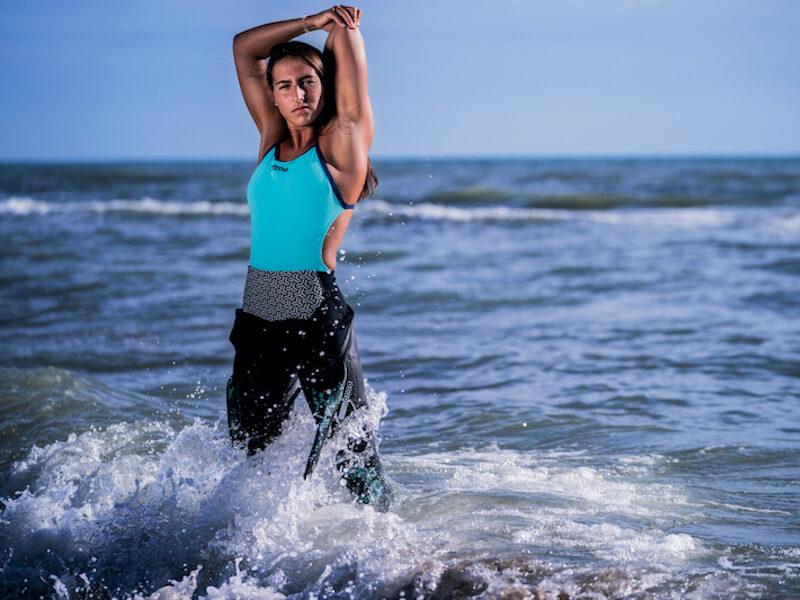 If you've ever looked at any pre-race photos of a triathlon, you'll probably have noticed that all the competitors are wearing wetsuits. These one-piece wetsuits help to keep triathletes warm and safe in colder water. Wetsuits can also help swimmers cut through the water faster and protect from minor abrasions.
The neoprene construction of an open-water swimming wetsuit can help to improve your buoyancy, which gives you a better body position in the water. This open-water swimming gear will improve your hydrodynamics, helping you to swim faster. A good triathlon wetsuit should also reduce drag thanks to a special coating that will help you glide through the water.
arena Wetsuit Range
The Triwetsuit Sleeveless is a serious piece of open-water swimming gear. This wetsuit will give you the buoyancy you need — thanks to nylon bonded to neoprene — for long swims while keeping you warm. The suit also has an external coating to help reduce drag and cuts are designed to allow better freedom of movement for the arms. 
There is also an updated version of this wetsuit that features carbon in the material as well: the Carbon Triwetsuit Sleeveless. On the inside layer of the suit are Yamamoto Aerodome neoprene panels that integrate with carbon cage fabric technology. This gives the wearer advanced buoyancy and improved core stability, perfect for competitive swimmers.
The SAMS Carbon Triwetsuit is a long-sleeve wetsuit and has a feature that you don't usually see on a wetsuit. SAMS stands for Shark Attack Mitigation System, and through partnership research with Western Australia's Oceans Institute and School of Animal Biology, it can actually reduce the chance of shark attacks.
Keep in mind, sharks are dangerous and unpredictable animals. SAMS technology can't guarantee a shark attack won't occur. If there is a shark sighting, leave the water immediately.
Swim Caps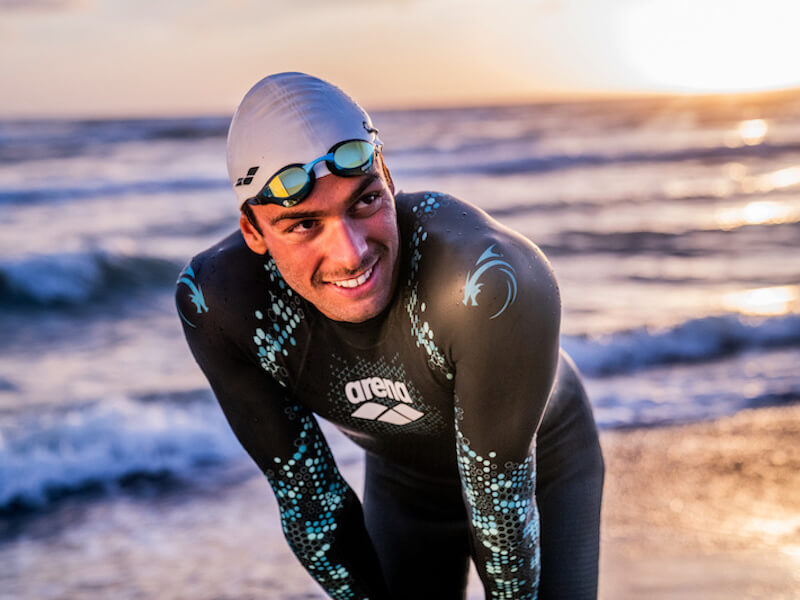 This is a piece of open-water swimming gear that is worn by most outdoor swimmers. Wearing a swim cap has a few basic functions that will look after you well when you're swimming outdoors. First, it will protect your hair from whatever is present in the water — salt being the worst enemy of luscious locks. 
Second, it will improve your hydrodynamics by reducing drag. This will obviously be more beneficial to those with longer hair. 
And, last but not least, swim caps can keep your head from getting cold (especially if you're a freestyle swimmer) in lower water temperatures.
A neoprene swim cap will provide a lot more insulation to your dome than a latex swim cap. They can be harder to find though and may cost more. Many outdoor swimmers simply use a silicone swim cap year round, and some double up on them for long-distance swims.
Whichever cap you chose, test the fit during a couple of swims. You don't want to experience a swimmer's headache in the middle of your swim.
Classic Silicone Print Cap
Here's a swim cap that really provides everything you need for outdoor swims. This cap is 100% silicone and free of any PVC. The silicone Print Cap comes in a variety of bright designs, perfect for keeping you seen and safe in shared outdoor waters. 
Other Essential Items
Another essential piece of swim gear for open-water swimming is a bright tow float, just in case you run into trouble. Also, if you're swimming in an area where you suspect your gear could get stolen, you can use a drybag to attach your belongings to your tow float.
When swimming in cold water or conditions, you may want to consider a thicker neoprene wetsuit as well as neoprene socks and swimming gloves.
Lastly, consider wearing a watch during open-water swims. It's important to swim within your limit, and without a sense of time means, you could swim too long or get colder than you intended.
Don't Enter the Water Without the Correct Open-Water Swimming Gear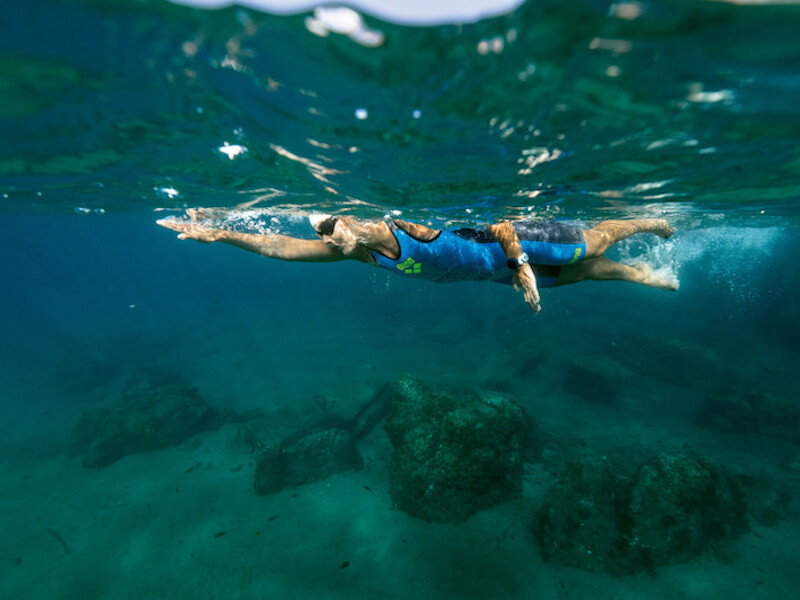 Open-water swimmers can be more susceptible to danger than pool swimmers. As dramatic as it sounds, having the right equipment can be a matter of life and death sometimes. Stay safe when open-water swimming and never swim alone.
Make sure you have the right equipment before you enter the water. To start, invest in open-water swim goggles, a wetsuit, and a swim cap. In addition, you may want to keep yourself safe out there with a tow float, a drybag, and a watch.
For a huge selection of equipment and swimwear specifically designed for open-water swimmers and triathletes, head straight to the arena online store.